Projects
Resource efficient buildings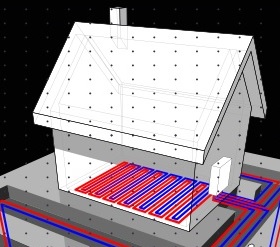 Scaling Up Retrofit
The Scaling Up Retrofit (SUR) project aims to develop a replicable, commercial model for retrofitting a typical three bed semi-detached home for under £15k, completed in nine days or less and achieving at least 50% energy saving, with minimal disruption to the resident. If successful, this model could be rolled out at scale helping to improve retrofit delivery to mass housing stock.
Most existing buildings will still be with us in 2050 when the UK has committed to reaching an 80% reduction in carbon dioxide emissions against 1990 levels. The built environment is responsible for almost half of the UK's carbon emissions.
Buildings also account for half of our water consumption, about a third of landfill waste and a quarter of raw materials. As building stock turnover is low in the UK - housing stock annual figures are 1% - identifying how existing buildings can be re-fitted and refurbished to reduce their carbon dioxide emissions and improve their resource efficiency is urgently needed.
Innovations in integrating renewal energy generation technologies into the building fabric will continue to be a prime driver. In order to understand what works and what doesn't, the Institute has been working on innovative retrofit projects with partners and focusing on measurement, monitoring and evaluation (MME) to encourage investor confidence in the market and promote a step change in the industry.
Resource Efficient Building case studies: