Projects
iTransfer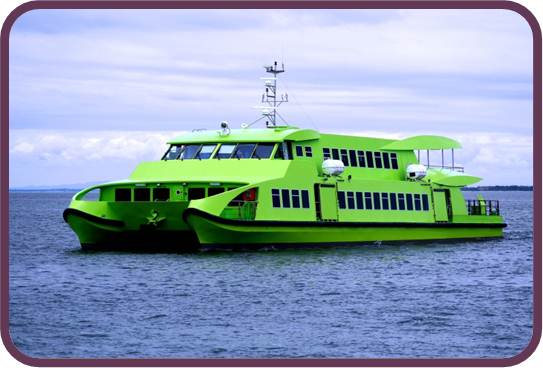 Institute's role: Lead partner
Background: iTransfer (Innovative Transport Solutions for Fjords, Estuaries and Rivers) aimed to improve water-based public transport in Europe's North Sea Region (NSR) by developing innovative and sustainable ferry technology. By creating more efficient ferry operations and making regional ports more accessible, the project also sought to increase the number of passengers commuting by water. Travelling by ferry is often more sustainable, easier and quicker, and provides essential services to remote communities.
Challenge: Regional public transport authorities often want to make better use of water transport for commuter journeys to help reduce congestion and CO2 emissions and improve air quality or to provide better services. However, it is difficult to find modern, comfortable and commercially-viable ferry designs, which also offer low fuel consumption, reduced CO2 emissions, and avoid damage to fauna and flora caused by wash near the shore, or by pollution. In addition, ferry landing equipment does not always meet current standards for disabled use or provide good passenger connections with other modes of public transport.
Activity: The iTransfer partners worked together to better understand the demand for commuter transport by ferry and passenger requirements and explore solutions to deliver a viable and sustainable transport alternative to road. Project activity included the following areas:
Sustainable ferry operations research and design: A number of project partners explored potential upgrades to existing vessels and developing innovative, sustainable standard ferry designs. This included: Netherlands-based ferry operator Rederij Doeksen who teamed-up with Damen Shipyards to pool their knowledge and deliver a new ferry concept that uses liquefied natural gas (LNG) as its main fuel, reducing CO2 emissions; ferry company Weserfahre developed a new fuel-monitoring system which is helping to reduce fuel consumption.
Innovative infrastructure:

For ferry services to be viable they need suitable infrastructure, which makes public access easy and allows better connections with other transport links. Gravesham Borough Council designed and delivered an innovative new tide-proof ferry landing on the River Thames at Gravesend. The new landing stage provides a vital link, allowing commuters to travel by river between Gravesend in Kent and Tilbury in Essex and encourages more commercial ferry services from Gravesend, including upriver towards London. The facility included input from iTransfer partners to enable a design that is optimised for the challenging tidal conditions. With a difference in high and low water of up to seven metres, it was important to construct a facility that could service ferries at all states of the tide. It has also been designed to be used by people with impaired mobility.

New ferry services:

Kent County Council launched a new ferry service operator between Tilbury and Gravesend, liaising with project partners on their experiences of tendering and commissioning similar services and their procurement process.

Developing ferry connections: Partners implemented plans to better integrate ferry transport with other public transport modes. iTransfer partner, SEStran, a Regional Transport Partnership (RTP) in Scotland created a comprehensive manual that provides invaluable guidance and information to local authorities and others seeking to enhance or create a passenger ferry service. They also explored an integrated, regional ticketing system to help encourage passenger transport by water.
The iTransfer final conference: 'Sustainable vessels: exploring innovation in the North Sea Region', took place at Surgeons' Hall, Edinburgh on 6 November 2014.
Partners: The Institute was one of 16 organisations from across the region:
Lead partner

1. Institute for Sustainability

Partners

2. AG Port of Oostende (Belgium)
3. BIS Bremerhaven Touristik (Germany)
4. Damen Shipyards (The Netherlands)
5. Gravesham Borough Council (UK)
6. Kent County Council (UK)
7. Magistrat Bremerhaven (Germany)
8. Rederij Doeksen (The Netherlands)
9. SEStran (UK)
10. TESO (The Netherlands)
11. Weserfähre GmbH (Germany)

Sub partners to BIS Bremerhaven Touristik

12. Helgoland (Germany)
13. Hal-Över (Germany)

Sub partners to SEStran

14. Maid of the Forth (UK)
15. East Lothian Council (UK)

Sub partners to the Institute for Sustainability

16. University College London (UCL) (UK)
Funders: The project was funded by the North Sea Region programme, part of the EU Inter-regional (Interreg) initiative.
Further information: For more information on iTransfer click here.