Projects
Weastflows
Institute's role: Co-lead partner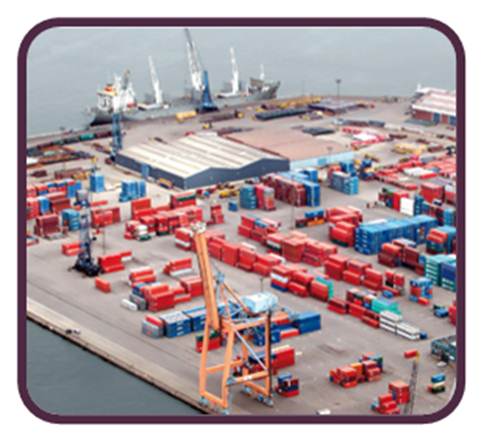 Background: Weastflows (west and east freight flows) is a €9 million project designed to help enable freight movement in North West Europe (NWE) to be more efficient and sustainable. Weastflows will explore and develop ICT solutions to make better use of existing infrastructure and encourage a shift from an over-reliance on road haulage to more sustainable rail, sea and inland waterway transport. These solutions will be piloted across a range of logistics networks to demonstrate how the new approaches can deliver real commercial benefits. The project aims to help the NWE region maintain its position as a competitive global freight hub and addresses the need for connected freight flows with the rest of Europe, Asia and America.
Challenge: Efficient and sustainable movement of freight within Europe is vital for the social and economic well-being of the region. Latest EU figures show that more than 2,400,000 million tonne-kilometres of freight is moved through Europe annually and this is increasing year-on-year (Eurostat 2010). Despite the recession, freight transport activity continues to grow strongly and is projected to rise by 2.1% per year until at least 2030. (European Commission accessed on 24 January 2013). Europe's freight network suffers from congestion and bottlenecks, especially on the roads but available capacity on other modes, particularly maritime transport, presents opportunities to alleviate this growing issue.
Activity: The Weastflows project has been organised into a series of work activities and practical pilot demonstration projects developed by partners from a range of countries including Belgium, Ireland, France, Germany Luxembourg, the Netherlands and the UK. This includes:
Improving existing infrastructure
Focusing on existing infrastructure capacity, project partners are mapping the roads, railways, inland waterways and coastal facilities of the North West Europe region highlighting bottlenecks and congestion points as well as routes that are currently under-utilised. Partners will then analyse freight flows by transport mode and freight type identifying where more sustainable alternatives could be employed. These findings will be shared with transport buyers and suppliers to help develop realistic and practical, alternative, sustainable supply chains. They will also inform policy recommendations for future transport planning at EU level.
Developing sustainable logistics
Project partners are examining, in detail, road-based supply chains within North West Europe and identify if a multi-modal option is a realistic and sustainable alternative for private sector operators. This includes analysis of NWE freight flows by mode and freight type including identifying areas where sustainability could be improved. As a result, a report will be produced that will detail the issues that currently prevent transport users and suppliers from embracing more sustainable modes, as well as guidelines on how to address these challenges.
Creating innovative ICT solutions
Project partners are identifying and analysing the range of ICT solutions currently available to transport operators and logistics companies. Partners are also undertaking a series of practical ICT-based pilot projects that will have a real impact on freight movement in NWE. This includes the development of an intermodal route planner. The system will allow transport buyers and logistics professionals to identify and plan optimal and sustainable freight routes by using a combination of road, rail, barge and shortsea transport. A pilot is also being developed that focuses on road transport and aims to assist trucks become safer and more sustainable through more efficient driving techniques.
Strategic influencing
Designated a strategic initiative by the EU, Weastflows will capture emerging practice and share this learning with public authorities to influence their future plans and with businesses to highlight innovative opportunities to help drive sustainable economic growth. Leading this element, the Institute has delivered a paper on intelligent transport systems to the ITS World Congress 2012 in Vienna and is presenting the project to global logistics conferences in Paris and Munich.
The project's extensive network of observers will disseminate this information across the wider freight network both within Europe and farther afield. Project activities will also link with other transport policy work being undertaken by other Interreg projects, including LO-PINOD and iTransfer.
For more information on Weastflows visit www.weastflows.eu
Partners:
Co-leading the project with CRITT, a logistics and transport Institute based in Le Havre, the Institute is partnered with 21 organisations from across North West Europe and 36 international observers, including Agence d'Urbanisme de la Région du Havre et de l'Estuaire de la Seine (AURH), Beter Bereikbaar Zuidoost-Brabant (BBZOB), Brabantse Ontwikkelings Maatschappij (BOM), Centre de Recherche Public Henri Tudor (TUDOR), Centre for Quantitative Methods (CQM), Communication and Tracking Services (CTS), i-Trans / Transports Terrestres Promotion Northern France (TTP NF), InforIT, Institut du Droit International des Transport (IDIT), Intermodality, Irish Exporters Association (IEA), Liverpool John Moores University (LOOM), Logistique Seine Normandie (LSN), Mid-West Regional Authority (MWRA), Mobycon, Portsmouth International Port, South East Scotland Transport Partnership (SEStran), Universität Duisburg-Essen (UNI-DUE), University of Science and Technology of Lille (USTL-LAGIS), Verband Region Rhein-Neckar (VRRN), Conseil Régional Haute-Normandie, Dutch Institute for Advanced Logistics (DINALOG), Essex County Council (ECC), Grand Port Maritime du Havre, Imperial College London, ISIC, Kooperationszentrum Logistik e.V. (KLOK), Le Havre Développement (LHD) Logistics in Wallonia, National Transport Authority (NTA), Nottingham Scientific Limited: Intelligent Railways via Integrated Satellite Services (NSL-IRISS),NOV@log, Port de Rouen,
Port of Oostende, Port of Zeebrugge, Rosslare Europort , Tongji University Shanghai, Verband Region Stuttgart and
Wilson James (WJ)
Funders: The project is part-funded by the Interreg IVB NWE programme.